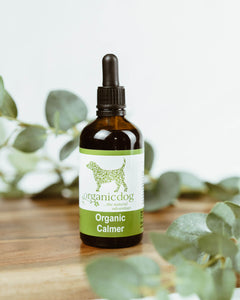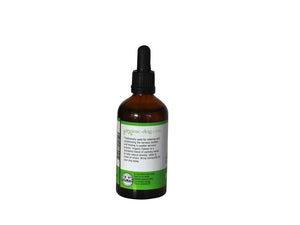 Organic Calmer for Dogs
Regular price
Sale price
$ 24.95 NZD
---
Herbs can be emotionally balancing and can help with dog behaviour problems and with dog training. Calming herbs are great to help combat excitability and anxiety. They can also help your dog cope with the stress of travelling, or being left in boarding kennels. Herbs can:
help reduce anxious dog behaviour or nervousness
calm down hyperactive dogs
settle an upset digestive system due to tension
relieve separation anxiety
help dogs that experience stress from travelling
help relax dogs for better performance during competitions
assist in dog training obedience lessons
A few drops a day to soothe your dog's troubles away
Traditionally used for relaxing and conditioning the nervous system and helping to soothe nervous tension. Organic Calmer is a wonderful blend of calming herbs to help reduce anxiety. It is a great tonic to have on hand for times of stress and emotional upheaval to help your dog's state of mind and for your own peace of mind. Help bring tranquility to your dog today. To treat anxious dog behaviour then reach for a bottle of Organic Calmer.
Contains: Chamomile, Vervain, Lemon Balm,  Dandelion based in organic cider vinegar.
Restore the emotional balance in your dogs behaviour for as little as $6 per month
For as little as $6 a month you can help ease away the tension and stress, making your dog feel secure and contented. This herbal extract comes in a concentrated form, so you only need to feed small amounts (5-10 drops twice daily) using the easy dropper dispenser. Drops can be fed either via food, water or directly into the mouth.
Calming Herbs for Dogs
I have 2 Standard Schnauzers that were typically over diligent and bark at anything and everything. After using the Organic Calmer for about 6 weeks - once a day, I, my husband and neighbours have all noticed a MAJOR change in their behaviour - they are both much more relaxed. Thank you so much for making my life easier. 
C. Wilson, Qld, Australia
We have a boxer who I would describe as incredibly exciteable and energetic, always wanting attention and games. Unfortunately she goes from morning till night which wears us all out. I tried using the Organic Calmer in the hope of getting a bit of rest and I have to say it worked perfectly. She happily takes the drops then quite quickly lies down and has a rest for a while. It has been a miracle for us all.
M. Trenter, Clevedon, NZ.
Herb Dictionary
Here are just some of the essential herbs for dealing with dog behaviour problems and to assist with dog training. To find out more, click here for your free herb guide.
Chamomile (flower)
(Matricaria Chamomilla) 

Natures own calmer.
Soothing pain relief.
Helps digestive disorders.
Useful for menstrual cramps.

 

Vervain (leaf and flower head)
(Verbena officinalis)

Natures tension reliever

Restores the nervous system.

Good for animals that are sensitive to the touch.

Lemon Balm

Natural sedative.
Relieves nervous stress
Nervine.

Dandelion (leaf & root)
(Taraxacum officinalis)

Rich in vitamins A,B,
C, D.
Cleanses the blood.
Aids digestion.
Stimulates appetite.
You will be able to pay on line or via PayPal or credit card