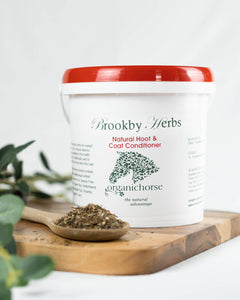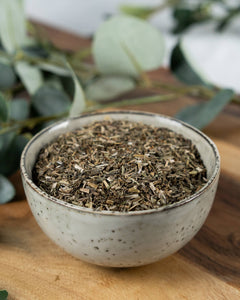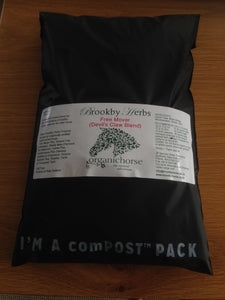 Natural Hoof & Coat Conditioner
Regular price
Sale price
$30.00
---
Most horse skin conditions are treated externally to the skin while ignoring the internal state of health. Herbs work inwardly by restoring, strengthening and nourishing the whole body and can therefore help to create a naturally shiny coat and act as a great natural hoof care for horses.
 Natural Hoof & Coat Conditioner is a nutritious supplement ideal for overall conditioning. Provides a rich blend of vital vitamins and minerals great for healthy hooves and general health of your horse. Traditionally used to strengthen the hoof and improve the shine of the coat. This blend is great for older horses and a rescue remedy for skin and hoof problems. Bring that glossy sheen back into your horse's coat. 
 Contains a natural seaweed meal traditionally used for providing a balanced mineral supplement to your horses diet. It's a rich source of iodine, magnesium, potassium, iron and vitamin A,B and C and trace elements. Promotes a healthy coat and improves digestion.
 Rosehips are a fabulous herbal treatment or fruit for ensuring great health for both horses and humans. Because of the Rosehips anti-oxidant properties they are a brilliant food for maintaining good health. Research has shown that antioxidants protect the body against certain diseases such as cancer, arthritis and cardiovascular diseases and it is believed the flavanoids in Rosehips contribute to strong hooves.
 Rosehips are a great source of iron and are the perfect natural source of vitamin C and are a good tonic for liver problems.
 Clivers are considered excellent for the lymphatic system and as a blood cleanser so they are good for creating a healthy coat. 
Contains: Clivers, Rosehips & Kelp
Dosage:
 Up to 13.2 HH        20 grams
13.2-15.2 HH          30-50 grams
15.2 HH upwards   50 grams
¼ cup = 20 gms approx.
Exact measurements are not as critical as with synthetic medicines so quantities can be adjusted to suit the size of horse as well as the sensitivity of the horse. A normal guide would be 15-20 grams daily for an average size pony 13.2hh, whereas a large horse 16.1hh and upwards will need between 25 and 30 grams daily.
Due to the strong flavour of some herbs it is recommended that you introduce herbs gradually
Prices are shown in NZ currency. You will be able to pay online or via PayPal or credit card. 
 Free Shipping on orders over $100 or $8.50 within NZ.
International Orders - Freight is added at checkout for overseas orders. 
Client's Testimonials:
I've been using your herbs (Organic Hoof & Coat Conditioner) for the past 2 months and cannot believe the coat condition on my horse now. Shining and vital where as before it was dull and rough. I am amazed at the difference!! And yes, you're more than welcome to quote me on my comment about your herbs because I believe that they have made such a difference to my horses appearance that I've been telling everyone I know about them. People who know him do not believe he is the same horse. He is a dark horse and now he has gone really black, and shiny. He also is unrugged so his coat is doing really well. L. Strachan, New Plymouth, New Zealand 

I am very happy with the way my horses look after using Organic Hoof & Coat Conditioner. After using Herbal Calmer on a particular horse, I would describe him as quite different and a lot calmer than he was.
Barry Purdon, Purdon Racing Stables, Clevedon, NZ.

I want to thank you for the excellent quality of your products, and in particular the effectiveness of your Hoof and Coat Conditioner. We have a Clyde cross mare who was prone to an unsightly eczema-like skin condition which left weeping sores on her face and other parts of her body. It seemed to have no identifiable cause, and nothing we or the vet tried seemed to help. And then I read about your herbal products and decided to try the Hoof and Coat Conditioner. The rapid improvement in Sally's condition was remarkable and the bonus of a gleaming coat is a real tribute to your product. I recommend it without hesitation.

We also appreciate the promptness of delivery when we order from you. Last week I emailed you on Friday morning and the order arrived on my doorstep in Hawke's Bay on Saturday morning. That's great service!
Ros Rowe, Leg-Up Trust
My Ben, a tb/clydie cross gelding, is a 'herbal' horse. I use three supplements as a regular and essential part of his diet - Free Mover: Free Mover Plus: Natural Hoof…As for the Natural Hoof and Coat Conditioner - Ben is barefoot. Need I say more.
And when I accumulate $500 in Reward Vouchers, I can choose a freebie from any one of my three favourites. A super bonus!
Zoe -Tawa.