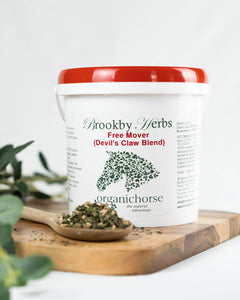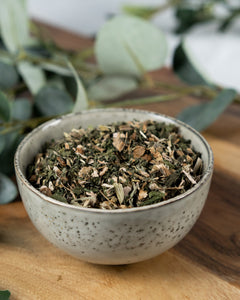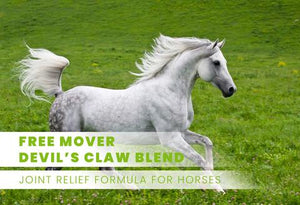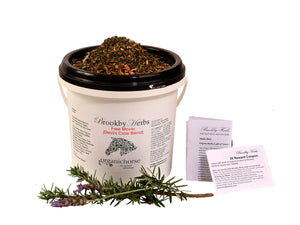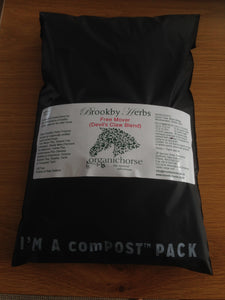 Free Mover (Devil's Claw Blend)
Regular price
Sale price
$30.00
---
Free Mover (Devil's Claw Blend) - Natural Anti-Inflammatory Joint Relief For Horses
 - Natural Anti-Inflammatory Joint Relief For Horses. Original dried blend for the older horse or perfect for the more active horses
Equine joint supplements to maintain a healthy musculoskeletal system
Combat stiffness caused by old age, injuries or poor nutrition
Help maintain healthy flexible joints and good circulation
Treat laminitis and navicular with natural safe herbs
Herbs can:
improve flexibility and movement in the joints
neutralise the acidity in the horses' system
help increase circulation
A handful of herbs can make a world of difference
Free Mover (Devil's Claw Blend) Dried
A traditional blend of dried herbs to maintain a healthy musculo-skeletal system in your older horses. Devil's Claw is a very effective and popular herb for older horses and for maintaining flexibility and movement in the joints and muscles. High in vitamins and minerals to increase circulation and promote good health.
Devil's Claw is traditionally used as an anti-inflammatory herb and combined with willow bark which is said to be your natural aspirin, as is Meadowsweet you are providing a healthy nutritional approach to good health.
Herbs work by treating the body as a whole, as opposed to treating the symptoms in isolation. Therefore herbs will take some time to be absorbed by the system, and for improvement to be seen. The liquid extracts are more concentrated than the dried blends and work faster.
Feeding Instructions: Mix 20-30 gms daily into horses feed. Half a cup = approximately 20 grams. A 400gm bucket will give you 20 days dosage.
Exact measurements are not as critical with herbs as with synthetic medicines so quantities can be adjusted to suit the size of horse as well as the sensitivity of the horse. A normal guide would be 20gms daily for an average size pony 13.2hh, whereas a large horse 16.1hh and upwards will need between 30 and 50 grams daily.
Both the dried and the liquid Free Mover are real customer favourites for older horses that suffer from stiff joints and to keep joints conditioned and free moving. Ideal for horses that are in training and competing.
Only NZ Company That Offers Money Back Guarantee - We Happily Take The Risk Out Of Purchasing.
We believe so strongly in our products that we happily provide a 100 % money-back guarantee. In fact we are the only NZ company that we can see that offers this.  If for any reason your horse won't eat the herbs or you are unsatisfied we offer a full money-back guarantee. No questions asked.
Here are just some of the essential herbs for horse arthritis and equine joint supplements. To understand the full range of herbs available you can purchase our comprehensive Herbal Guide "37 Herbs & Remedies For Fabulously Healthy Animals".
Devil's Claw (root)
(Harpagophytum Procumbens)

Helps maintain a healthy skeletal syst.

Ideal for healthy flexible joints

Shouldn't be fed to pregnant mares.

White Willow (bark)
(Salix alba)

Origin of aspirin

Tonic and astringent

Good for digestive system.

Meadow Sweet (herb)
(Filipendula ulmaria)

Antacid
Neutralises the acid in the system.
Great for digestive system

Nettles (aerial parts)
(Urtica dioica)

Nature's own cleansing tonic.
Rich in iron and vitamin C.
Increase circulation.




Client Testimonials
My Ben, a tb/clydie cross gelding, is a 'herbal' horse. I use three supplements as a regular and essential part of his diet - Free Mover, Free Mover Plus, and Natural Hoof and Coat Care. Because I can't feed Ben every day, I use both types of Free Mover in each feed. From the Free Mover Plus he gets the benefit of the cider vinegar base, as well as the immediate effects of the Devil's Claw into his bloodstream. From the herbal Free Mover mix, he builds up a longer-lasting effect from the Devil's Claw and the other herbal ingredients. - Zoe – Tawa  
I have been using Freemover for around a month and there has been such a great improvement on my old boy!!! I have now got someone else using it too!!! - Paula Clemoes Auckland, NZ
Just wanted to let you know that me and my old horse Charlie are really enjoying your Free Mover! Charlie is a Gisborne stock horse that had had a hard life as a trekking horse before I got him. He is the first horse I have ever owned and he is now about 26 years with arthritis in his back and legs. The vet advised me that he still needs regular gentle exercise, and he loves to go out. I was worried however about causing him pain and he had started to stumble frequently. I had tried some other non-herbal products that were extremely expensive. When I found Free Mover I was delighted. It means that we can still go out on nice quiet rides together, he can still canter along the grassy stop banks and he does not seem sore the next day. He is less stiff in his legs and he doesn't stumble as much. Free Mover is also more affordable than other alternatives and it is a good feeling to know that it is all herbal. So thanks for a great product that means Charlie and I can still enjoy some nice rides together. - Cheers, Helen.
I have used Free Mover for an aged horse with great success (and recommended it to friends) - Thanks, Deborah Biggs, NZ 
About the same time that I started using Brookby Herbs Free Mover on one of my dogs with a lameness problem, I decided to also try some of their herbal remedies for my retired horse. Just something to give him an extra 'boost' as he aged. I started with Herbal Health and then added Echinacea in the fall to give him a good start in the winter as I live in the Rocky Mountains and our winters are very harsh. Biarritz is currently 32 years old and doing great. I firmly believe it's the Brookby Herbs supplements that have kept him from even getting the sniffles!! Thanks Brookby Herbs! - Vicky Mason Colorado, USA
Hi! I just wanted to say THANK YOU for your fantastic products- I was using Free mover and saw results SO fast! - Hannah Divehal Hamilton, NZ
"I have a 22 year old Cleveland Bay/TB gelding called Saltan. He had an uneven gait, especially at trot, stiffness, calcification of joints and has been diagnosed as suffering from osteo-arthritis (especially around the fetlock joints). The vet said it was the worst case of arthritis he had ever seen. We purchased Free Mover from you in May for our "stiff old man" who by the way is doing great. Greg took him for the first ride since he'd been put on the mixture and found no uneven gait at a trot and a real willingness to go. I have noticed that he is now coming straight down the hill when we call him instead of zigzaging like he used to. He now has a real brightness in his eyes - and he doesn't look like an old shaggy pony (he is 16.2hh) anymore as his coat is even softer and shiner. Thank you for your wonderful product. - AJ and Greg 


My horse suffers from stiff joints and I noticed a difference after using Free Mover (Devil's Claw) for three weeks. It transformed him into a new animal; happy and moving about normally. I then tried taking him off the herbs for a week and he has reverted back to his tired old self. I really believe the herbs have given him a new lease of life. - J. Hamilton, Alfriston, New Zealand


My horse (a 24 year old mare) has always suffered from stiff joints. I have been feeding her Brookby Herbs' Free Mover and she's now running around like a two year old. She's a quite a different horse altogether - even the Vet can't believe the difference. I swear by it. - B. Hancock, Stratford, New Zealand 


I can't recommend devils claw Free Mover enough. I have been using it on my 13hh aged (we think she's around 30yo) mare who foundered at least twice before we bought her and had chronic seedy toe. Three years later, with the help of Brookby Herbs' products, she is galloping around the paddock like a pony half her age. The past two seasons my daughter has competed very successfully in show hunter jumping classes, finishing 8th last year on the New Zealand pony high points, evented, competed in pony club classes at the shows where they have won champion ribbons for paced and mannered, and the pair managed 1.25m in a two bar challenge. The times I have run out of Free Mover and been slack in putting in an order, the difference in the pony's action is quite noticeable. Older ponies are the best at teaching young children and deserve the best care. Free Mover is a must in my book. - Sonia Gerken, Barcola Lodge, Southland, New Zealand


I just want to let you know that I think your product Free Mover is brilliant. I have had 2 horses on it and I honestly can`t say enough about it. I have recommended it to a lot of my friends and they know how good they are as my horse is the proof. I have a 19 year old mare that is a lot happier now with being on the herbs and I had a 21 year old that improved so much from your product. Thank you for making the horses and dogs a lot more comfortable in their older years. - Joan Johnson New Zealand.
I began using Free Mover and within 4 weeks he was sound. He is now back in full work, jumping and competing-something I didn't think he'd be able to do again. I just wanted to say how much of a fan I am of your products and I will continue to tell friends about you and your wonderful herbal products. Thanks very much. - K Thomas
I have used Freemover for my horse with joint damage. It has allowed him to live until old age and enjoy his retirement. A great product. - Alison Ackling 
Free Shipping on orders over $100 or $8.50 within NZ. 
International Orders - Freight is added at checkout for overseas orders.