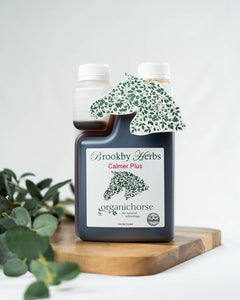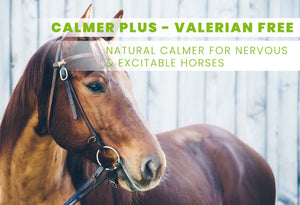 Calmer Plus - for horses
Regular price
Sale price
$ 62.95 NZD
---
A wonderful selection of dried herbs blended together in an organically certified cider vinegar base. Useful for horses that are sensitive to the touch and for both training and your riding enjoyment.
'Calmer Plus' is a concentrated liquid herbal formula

Click here for dried Herbal Calmer with Valerian or dried Calmer (Valerian Free)
A useful add-on for horses who tend to react to new or noisy environments.

100% Money Back Guarantee
If for any reason your horse won't eat the herbs or you are unsatisfied we offer a full money back guarantee. No questions asked.
This blend can be useful when
horses are under pressure
when traveling
dealing with new situations
'Calmer Plus' is a concentrated liquid that can be used for training or the lead up to competition. 
With regards to FEI prohibited substances it is recommended a withholding period of 24-48 hours.
Contains: Vervain, Chamomile, Lemon Balm, Dandelion, Kelp, Rosehips in an Organic Cider Vinegar base.
Dosage- up to 13.2 HH 5-10mls daily
13.2-15.2 HH 20 mls daily
15.2 HH upwards 30 mls daily
A 1 litre bottle will give you 50 days dosage at 20 mls daily.
To be mixed daily with your horses feed or can be syringed directly into the mouth. The dosage can be fed in a single dose or split between feeds.
Shake well before use and store in a cool place away from direct sunlight.
Valerian versus Vervain comparison:
Wondering which product to try?  Is your horse sensitive to the touch? 
This formula with vervain is ideal for horses who are sensitive to the touch. If your horse holds their tension in their muscles, you may find that valerian suits them better.
Liquid extract versus dried herbs comparison:
People often ask what is the difference between the dried formulas and liquids. Liquids tend to be faster acting than dried herbs and are more concentrated.  It is often a personal preference as well.
Liquids can be squirted directly into the mouth with a syringe or can be poured over your horses feed. The liquids contain organic cider vinegar and rosehips.
 Client reviews
"Well done! Now I can seek advice 24 hours a day. Also, I have to compliment you on your fantastic products. I used the calming herbs on a highly-strung horse. She was hard to catch, feed, groom and ride. After feeding her with the herbs daily, I could do anything with her! When this mare was about to be flown to England, I fed her some calming herbs and she went into the float like a lamb. I was really pleased. Well done Brookby Herbs, keep up the fantastic products." - C. Knock, Waipawa, CHB, New Zealand Herb Dictionary
Dosage rates for an average 14 hh horse 
Dried Herbal Calmer - 30 gms daily 
Dried Calmer (Valerian Free) - 30 gms daily
'Calmer Plus' dosage- 20 mls daily 
Exact measurements can be adjusted to suit the size of horse as well as the sensitivity of the horse. A normal guide would be 20gms of dried herbs daily for an average size pony 13.2hh, whereas a large horse 16.1hh and upwards will need between 30 and 50 grams daily.
Prices are shown in your local currency. You will be able to pay online or via PayPal or credit card.
Free Shipping on orders over $100 or $7.50 within NZ. Freight will be added to overseas prices.
---