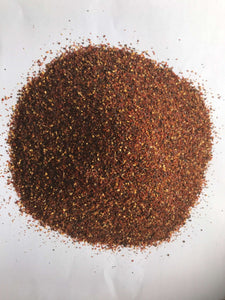 Rosehips Granules
Regular price
Sale price
$ 51.00 NZD
---
Herbal treatment for horses is perfect with the all-important inclusion of Rosehips, Rosa Canina or Dog Rose. Dog Rose is native to Europe and is considered a weed in parts of Australia which is unfortunate as it has such wonderful health-giving properties for both ourselves and our horses. The hips of the dog rose were a popular sweetmeat in the Middle Ages and can add great weight to any herbal treatments for horses and dogs as well. The term sweetmeats usually refers to candy or sweet confections. Doctors in the Middle Ages often concealed bitter medicine in candy form, so that it was more palatable to patients. However, many patients believed that medicine wasn't working unless it tasted awful.
Antioxidants can protect against free radical cells which can damage tissues and are implicated in causing many diseases. Excessive free radicals are caused by poor nutrition, stress and damaged tissues. Infections will lower your horse's vitamin c levels and this can also inhibit the growth and repair of cartilage and bone tissue if it is constantly deficient.
Rosehips have an important role to play in neutralising free radicals, therefore, they are a wonderful herbal treatment for keeping your horse healthy and in peak condition. Research has established Rosehips as the highest source of flavonoids and biotin which is great for strengthening horses hooves as well.
If you are looking for a naturally occurring herbal treatment then vitamin C has been found to be far more readily absorbed than artificial vitamin c, therefore the benefits of feeding rosehips to horses should be an obvious choice.
Rosehips are a great source of Iron and can be used to rehabilitate weak kidneys.They are also a good tonic for liver-based ailments and can help build a barrier against infection.
Rosehips can be made into a tea by mixing 2 dessertspoons of granules into 1 liter of boiling water and steeped until cool. This tea is then poured over your horses feed. For those of you who don't have time to make your own tea then Brookby Herbs have a Rosehip and Garlic tonic in cider vinegar already made up for you and available through selected stockists.
Constituents: Rosehips contain vitamin C , A, B 1, B 2, B 3 and K, flavonoids, tannins, invert sugar, pectin, plant acids, polyphenols, carotenoids, volatile oil and vanillin.
For a Free on-line herbal guide "37 herbs & remedies for fabulously healthy animals" visit this page and enter your details.
---