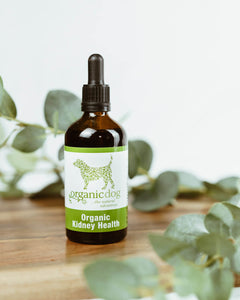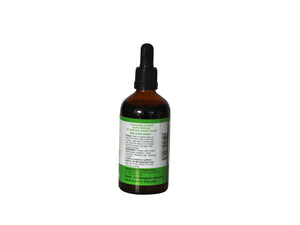 Organic Kidney Health for Dogs
Regular price
Sale price
$15.00
---
This herbal blend is designed for the support and maintenance of a healthy renal system and to increase blood circulation. Good sound kidney health requires a strong healthy circulation system and herbs can provide a natural means of maintenance. 
See Below for specific Kidney and Product Information
What's in Nature's Medicine Chest for 
Maintaining Kidney Health? 
Dogs that suffer from kidney problems can benefit from herbs in many ways that possibly you hadn't thought of before. They can provide a means of enhancing your dogs' quality of life by providing a safe form of maintaining kidney health, critical to a dogs' enjoyment of life.
Given the fragility of the kidneys and the hard work they do it is understandable why they are often the first body structure to wear out in older age, however, an alarming amount of younger and middle aged animals succumb to kidney failure. Kidney failure can be as debilitating for animals as it is for humans and maintaining a healthy body before the onset of illness is an important part of preserving quality of life.
Kidney failure is often caused and is always compounded by a poor-quality or unbalanced diet. One contributing factor is the overabundance of phosphorous in many brands of commercial dog food. 
A variety of other problems, such as diabetes, immune system dysfunction, vaccinosis, chronic liver disease and digestive problems, often develop as the kidney damage progresses. The worst part is that the entire degenerative process can remain undetected until the damage has progressed into an irreversible state. 
Herbal supplements that are completely natural and without the side effects often associated with synthetic drugs are fabulous for maintaining healthy kidneys. These herbs are also ideal for the older dog to help alleviate some of the kidney's workload. 
The herbs contained in this blend are particularly popular for the nutritional maintenance of the kidneys and circulation system. 
To help maintain kidneys in a strong and healthy condition, we have developed an organically certified herbal extract perfect for the older dog and ideal for the competitive dog as well. 
For the nutritional maintenance of the kidneys and circulation system 

Give old dogs a new lease of life

Enhance circulation

Natural kidney maintenance
A few drops a day can make a world of difference.
Organic Kidney Health - Traditionally used for maintaining kidneys and the circulation system in a healthy condition. Herbs can help neutralise acid in the body and contribute vital vitamins and minerals for a healthy functioning circulatory system. A real customer favourite for the older dog. Optimise your dog's health today.
You can maintain your dog's kidney health and give them a real lift in vitality and performance. Because these herbal extracts come in a concentrated form, you only need to feed small amounts (5-10 drops twice daily) using the easy dropper dispenser. Drops can be fed either via food, water or directly into the mouth.
Certified Organic and GE Free 
Organic Kidney Health - to help maintain healthy kidneys and enhance circulation
 Based on organic cider vinegar. Contains Marshmallow, Hawthorn, Ginko, Echinacea, Dandelion Leaf, Rosehips. 
Dosage: For small dogs, 5-10 drops twice daily. Mix in with food or water.
Medium to large dogs 10-15 drops twice daily
A 3.4 oz bottle contains approximately 3-4 months dosage.
These herbal extracts have a shelf life of 2 years.
Herb Dictionary 
Here are just some of the essential herbs for the maintenance of healthy kidneys and performance. 
Marshmallow (root & 
leaves)
(Althaea officinalis)

Expectorant for coughs

Tonic

Helps expel mucus

Soothes irritation in airways

 

 

Hawthorn (berries) 
(Crataegus oxyacantha)

Lowers blood pressure

Aids digestion

A marvelous tonic for the heart
(Do not feed to pregnant dogs)

 

 Rosehips (fruit & seeds)
(Rosa Canina) 

High in Vitamin C 

Cleanses the blood

Protects against infection

Echinacea (root)
(Echinacea purpurea)

Boosts the immune system

Maintains healthy respiratory system

Enhances immune system
---