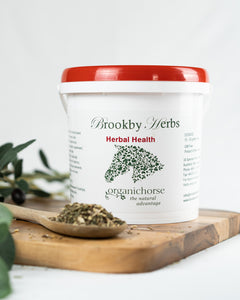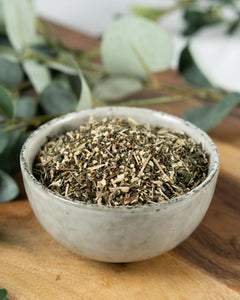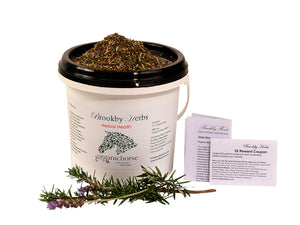 Herbal Health
Regular price
Sale price
$30.00
---
The general indicator of health for horses can be seen in their appearance. This can be a good indication of your horses internal well being. Prevention of ill health for horses is always a much cheaper and easier road to travel and the Brookby Herbs Herbal Health blend has been designed as exactly that, a preventative and general maintenance blend. When you think of the general health of horses we often think of a shiny coat and bright eyes. Most horse skin conditions are treated externally to the skin while ignoring the internal state of health. Herbs work inwardly by restoring, strengthening and nourishing the whole body and can, therefore, help to create a naturally shiny coat and act as a great natural hoof care for horses.
Herbs will:
provide important essential vitamins and minerals for healthy skin 

improve blood circulation to hooves 

strengthen immune system 

encourage strong hair growth 

soothe away minor skin irritations 

help repel annoying nuisance insects
A rich combination of essential herbs to provide an overall balance in your horse's diet. Loaded with crucial vitamins and minerals, this is a great everyday supplement for the general health of horses and also for dull or itchy skin conditions. This blend contains herbs such as garlic which help repel annoying small insects and nettle which acts as a general blood cleanser and helps ease minor skin irritations. Relieve your horse's annoying itch today and help maintain overall well being.

Contains;  Clivers, Meadowsweet, Rosehips, Garlic, Kelp, Nettles, Mint., Siberian Ginseng (Caution: Some horses may be allergic to nettles so test a small quantity first). 
Dosage - 
Recommended daily dosage.
¼ cup = approx. 20 gms
Dosage:
Up to 13.2 HH        20 grams
13.2-15.2 HH          30-50 grams
15.2 HH upwards   50 grams
Herbs work by treating the body as a whole, as opposed to treating the symptoms in isolation. Therefore herbs can take some time to be absorbed into the system, and for improvement to be seen.
Introduce gradually to the horses normal feed allowing 3-4 weeks for herbs to be absorbed.
Exact measurements are not as critical as with synthetic medicines so quantities can be adjusted to suit the size of horse as well as the sensitivity of the horse. 
If any adverse reaction occurs please discontinue use immediately.
Bring back the shine for $1 a day
You can help ease your horse's skin problems and provide natural hoof care and well being for horses for as little as a $1 a day. The dried blends can be easily mixed straight into your horses feed. Just a small handful a day means this is a very economical natural supplement.
Read in the testimonials how these herbs have helped other horses with skin allergies and helped maintain a healthy horse.
Herb Dictionary
Here are just some of the essential herbs for herbal health for horses and horse skin conditions. To find out more, click here to get your free herb guide.
Prices are shown in NZ currency. You will be able to pay online or via PayPal or credit card. 
 Free Shipping on orders over $100 or $8.50 within NZ.
International Orders - Freight is added at checkout for overseas orders. 
Clivers (herb)
(Galium aparine)

Excellent for the lymphatic system.

Rich in minerals.

Blood cleanser.

Relieves fluid retention.

Garlic (bulb)
(Allium sativum)

High in sulphur.

Cleanses the blood.

Helps repel minor insects.

Kelp (whole plant)
(Fucus vesiculosus)

Original source of iodine. 

Packed with 46 minerals. 

Nourishing. 

Nettles (aerial parts)
(Urtica dioica)

Nature's own cleansing tonic. 

Rich in iron and vitamin C. 

Increase circulation. 
---