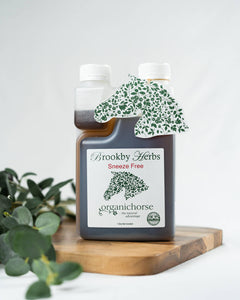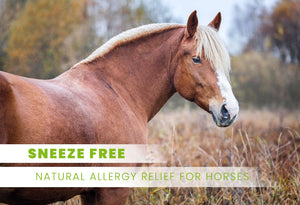 Sneeze Free anti-allergy formula
Regular price
Sale price
$40.00
---
Sneeze Free anti allergy for head flicking, as skin irritations & allergy symptoms

Horses with allergies and hayfever can find relief with herbal remedies.
Horses with allergies can cause a lot of stress and unpleasantness and if you are looking for information on horse allergies and haven't considered the natural alternative, then this is the place to look. Maybe your horse has a problem with head shaking or flicking? The annoying and sometimes dangerous behaviour of head shaking is thought to possibly be related to horses with allergies and damage caused to the nervous system. Herbs can help boost the immune system, which is often part of the problem with allergies and hayfever and can help maintain a healthy body.
Brookby Herbs have a comforting blend of herbs to help alleviate the persistent symptoms of allergies. The natural expectorants can help soothe a cough and clear the passages, making breathing easier for your horse with allergies. The vitamins help restore damaged tissues and build up the immune system.
Most Effective Treatment for Horses With Allergies
The most effective way to combat seasonal allergies is to supplement your horses feed 4-6 weeks prior to the susceptible period if possible. You may need to continue feeding for another 6 weeks during this season to completely re-balance the body's immune system. The herbs in this blend will also help de-sensitise the nervous system which is over-reacting to allergens and nettle is a herb which will act as a natural anti-histamine providing relief for unpleasant symptoms.
What Herbs Are  In The Sneeze Free Formula?
Contains Chamomile, Vervain, Kelp, Marshmallow, Mullein, Nettle, Rosehips, Yarrow. All these herbs are in an organically certified cider vinegar base. Not like other herbal products which are often in an alcohol base. The cider vinegar is a nutritional food in itself containing over 26 vitamins and minerals plus cider vinegar is great for the joints.
Herbs can:
calm an over-active nervous system
act as a natural expectorant
soothe coughs and irritations
clear the airways
build the immune system
Certified Organic cider vinegar base and GE Free
All the herbs come in an organically certified apple cider vinegar base which means it is produced without chemical fertilisers or pesticides. This means no hidden or harmful elements, just pure and safe, quality nutrition for your horses with allergies.
Dosage- up to 13.2 HH 5-10mls daily
13.2-15.2 HH 20 mls daily
15.2 HH upwards 30 mls daily
A 1 litre bottle will give you 50 days dosage at 20 mls daily.
To be mixed daily with your horses feed or can be syringed directly into the mouth. The dosage can be fed in a single dose or split between feeds.
Shake well before use and store in a cool place away from direct sunlight.
Herb Dictionary
Here are just some of the essential herbs for horse with allergies and hayfever. To purchase your own herbal guide with remedies click here.
Prices are shown in NZ currency. You will be able to pay online or via PayPal or credit card. 
 Free Shipping on orders over $100 or $8.50 within NZ.
International Orders - Freight is added at checkout for overseas orders. 
Chamomile (flower)
(Matricaria Chamomilla) 

Natures own calmer.
Reduces minor Inflammation.


Nettle (Leaves)


Natural expectorant
Clears the nose
Reduces minor inflammation in the nasal membranes

Kelp (whole plant)
(Fucus vesiculosus)

Original source of iodine.
Packed with 46 minerals.
Nourishing.

Marshmallow (root& leaves)
(Althaea officinalis)

Expectorant for coughs.
Tonic.
Helps expel mucus.
Soothes irritation in airways.
"P.S The sneeze freeze is making a huge difference to my big man, thank you so much for recommending it." - L. Nalder
"Sneeze Free is working well with one of our ponies this is his second year and he began to take it this year on 1st March (just like my son with his hayfever medicine) and there has been a huge improvement with allergy symptoms, his eyes don't run as much and his breathing is easier, so much so he does not take any prescribed drugs anymore therefore his quality of life is now good. Many thanks for dealing with my last order so promptly it came very quickly which was great. I wish more people would consider natural products as they are good for us so why not our pets!!" - Thanks again, Tracy
"This is just a little note to complement you on your most excellent service! I ordered some products off you the other day and I received them today and I was most impressed how fast they arrived. I hope I do more dealings with you in the future and will put the word out about Brookby Herbs." - Regards, Lori
"The "Sneeze Free" product appears to be helping with Oakley's reaction to fly bites, the season here has fully started so am getting him dosed before it does, those that he has had so far have caused little or no swelling.
What I always like about horses and herbs is there is no placebo effect, they don't know what they are taking, he's quite happy with the smell of the cider apple vinegar which is great for a horse who can smell Bute at a hundred paces and flatly refuses to take the stuff, if he has to have it I have to make it into a paste and syringe it down his throat!!
Many thanks and keep up the great products and good service." - Caroline and Oakley
---