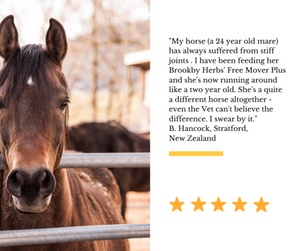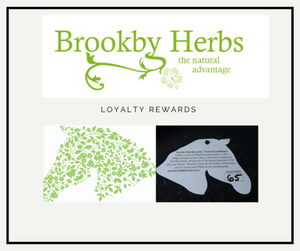 Free Mover Plus - Natural Anti-inflammatory Joint Relief for Horses
Regular price
Sale price
$40.00
---
Free Mover Plus is a natural anti-inflammatory for stiff joints and muscles in horses. Over 35,000 sold over 20 years. Alcohol Free Herbal Extract in Organic Cider Vinegar.
Help maintain healthy, flexible joints

A concentrated blend of Devil's Claw (anti-inflammatory herbs)
100% Alcohol-Free
"She's now running around like a 2 year old. Vet Can't believe the difference!"
100% Satisfaction Money Back Guarantee - We happily take the risk out of purchasing.
We believe so strongly in our products that we happily provide a 100 % money-back guarantee.

Certified Organic Cider Vinegar Base and Non-Genetically Modified Herbs
Ingredients
 Organic Cider Vinegar

Devil's Claw

White willow bark

Meadowsweet

Hawthorn

Nettle

Rosehips

Kelp
What amount of herbs should I feed my horse?

For an average size pony (13 hands high) the daily amount is 25 - 30 grams of dried herbs. Larger horses (16 hands high) require between 30 - 50 grams daily. Exact measurements are not as critical as with synthetic medicines so quantities can be adjusted to suit the size and sensitivity of your horse.
With the liquid extracts, the dosage rates are as follows
5-10 mls daily for 13.2 HH,
20 mls daily for 13.2 HH- 15.2 HH,
30 mls daily for 15.2 HH upwards. 500 ml and 1 litre bottles have a built in chamber for easy measuring.
1 Litre bottles contain 50 days on average at a daily dose of 20 mls
How many doses does each bucket of herbs contain?
The amount required depends on the type of herb being used. Please see individual products for details.
Dried blends easily mix in with horses feed

 Liquid extracts can be syringed directly into mouth or poured on feed
Get your horse's joints working again for as little as $1.50 a day
You can help your horse's stiff joints by maintaining a healthy musculo-skeletal system. For as little as $1.50 a day. This is when you buy the bulk 5 litre bottle.
Brookby Herbs have been in business for nearly 20 years and pride ourselves on our reputation and dedication to our customers.
Only NZ Horse Herb Company that Offers Rewards!
Collect reward points and get free product. 
Herbs for horse mobility
Here are just some of the useful herbs for older horses and equine joints. To find out more about the best herbs for these issues, purchase your own comprehensive herbal guide here.
Devil's Claw (root)
(Harpagophytum Procumbens)

Helps maintain a healthy skeletal system.

Ideal for healthy flexible joints

Shouldn't be fed to pregnant mares.

White Willow (bark)
(Salix alba)

Origin of aspirin

Tonic and astringent

Useful for the digestive system.

Meadow Sweet (herb)
(Filipendula ulmaria)

Antacid

Neutralises the acid in the system.

Great for the digestive system

Nettles (aerial parts)
(Urtica dioica)

Nature's own cleansing tonic.

Rich in iron and vitamin C.

Increase circulation.
Client Testimonials
My Ben, a tb/clydie cross gelding, is a 'herbal' horse. I use three supplements as a regular and essential part of his diet - Free Mover, Free Mover Plus, and Natural Hoof and Coat Care. Because I can't feed Ben every day, I use both types of Free Mover in each feed. From the Free Mover Plus he gets the benefit of the cider vinegar base, as well as the immediate effects of the Devil's Claw into his bloodstream. From the herbal Free Mover mix, he builds up a longer-lasting effect from the Devil's Claw and the other herbal ingredients. - Zoe – Tawa  
 Could not believe the difference. Highly recommend the Free Mover Plus. The mares are so much more playful with the younger ones and appear so much happier and confident within themselves. I have had my mares for approx 12 years and they have never been so happy since I started your herbs. They are approx age 20. Cheers for the miracle potion. - Anon
Free Mover Plus turned my horses into 5 year olds! I am so happy with your product.  I have seen such an amazing difference in our 26yr old gelding that I have now put a couple of our other older ponies on the Free Mover as well. I have some younger children riding these ponies and it is wonderful to see them enjoying their work again, and being able to use their vast experience to teach these kids the joys of riding and owning a horse. - Vanessa Christensen
I just want to let you know that I think your product Free Mover is brilliant. I have had 2 horses on it and I honestly can`t say enough about it. I have recommended it to a lot of my friends and they know how good they are as my horse is the proof. I have a 19 year old mare that is a lot happier now with being on the herbs and I had a 21 year old that improved so much from your product. Thank you for making the horses and dogs a lot more comfortable in their older years. - Joan Johnson New Zealand.
Oakley is still going well with the Free Mover Plus, not only have I noticed how much better he moves and feels to ride but the farrier was here last week and commented how much better he stands and lets him pull his legs and shoulders while shoeing, he would "put up" with it for a while then start to fidget or "remove " his legs!!
Caroline and Oakley
Free Shipping on orders over $100 or $8.50 within NZ. 
International Orders - Freight is added at checkout for overseas orders. 
---