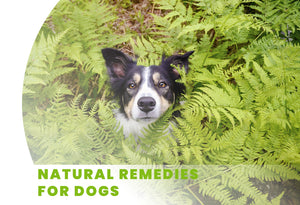 General Health - Organic Herbal Health for Dogs
Regular price
Sale price
$ 24.95 NZD
---
Protect your dog from general pollutants and improve and maintain their quality of life. This tasty organic blend is designed to maintain a healthy dog of any age. Garlic has long been renowned for its antibiotic, antiseptic and anti-viral properties plus may help deter minor pests and flies. This blend also supports a healthy immune and digestive system. Easily added to your dog's daily food or water.
What's in Nature's Medicine Chest to Protect your dog from Pollutants and Maintain their quality of life? 
Dogs can benefit from herbs in many ways that possibly you hadn't thought of before. They can provide a means of enhancing your dogs' quality of life by providing a safe form of maintaining health, critical to a dogs' enjoyment of life.
Herbal supplements that are completely natural and without the side effects often associated with synthetic drugs are fabulous for maintaining healthy liver, blood, respiratory system, digestive system, cardiovascular system and immune system. These herbs are also ideal for the older dog to help alleviate some of the workloads on these systems. 
Garlic is a particularly popular herb for the nutritional maintenance containing considerable amounts of protein, fibre, potassium, phosphorus, calcium, sodium, vitamin A, thiamine, niacin, taurine, zinc, riboflavin and dozens of other nutritive compounds. Garlic is antibacterial, stimulates the immune system, anticancer, nutritive, antioxidant, expectorant, lowers blood pressure, antitumor, antiviral, antifungal, tonic. 
Used properly and in the correct form, garlic is valuable for the treatment of virtually any form of internal or external bacterial, viral or fungal infections, including parasites and protozoan organisms. 
To help maintain your dog in a strong and healthy condition, we have developed an organically certified herbal extract perfect for dogs of all ages. 
For the nutritional maintenance of the liver, blood, respiratory, digestive, cardiovascular and immune systems

Protection against pollutants, pests and disease 

Give dogs of any age a new lease on life

Enhance their quality of life

Natural antibiotic, anti-viral and antiseptic
A few drops a day can make a world of difference.
Optimise your dog's health today
These herbs can maintain your dog's health and give them a real lift in vitality and performance. Because these herbal extracts come in a concentrated form, you only need to feed small amounts (5-10 drops twice daily) using the easy dropper dispenser. Drops can be fed either via food, water or directly into the mouth.
Certified Organic and GE Free 
Organic Herbal Health - Protect from pollutants, disease and enhance the quality of life

Directions For Use:
Dosage: For small dogs 5-10 drops twice daily. Mix in with food or water.
Medium to large dogs 10-15 drops twice daily
A 3.4 oz bottle contains approximately 3-4 months dosage.
These herbal extracts have a shelf life of 2 years.
Contains: Organic cider vinegar, Garlic, Fenugreek & Rosehips 
Herb Dictionary 
Here are just some of the essential herbs for the maintenance of health and performance. 
Garlic (bulb)
(Allium sativum)

High in Sulphur
Good for digestive system
Supports immune system
Antiseptic
Antibiotic
Anti-viral
Expectorant
Helps repel nuisance insects

Fenugreek (seed) 
(Trigonella foenum-graecum)

Aids digestion

Stimulates appetite 

Improves condition Extremely nutritious.

Avoid during pregnancy

Rosehips (fruit & seeds)
(Rosa Canina) 

High in Vitamin C 

Cleanses the blood

Protects against infection
---